Unusual accommodation near Paris: stay in the wooden cabins of the Chanteloup campsite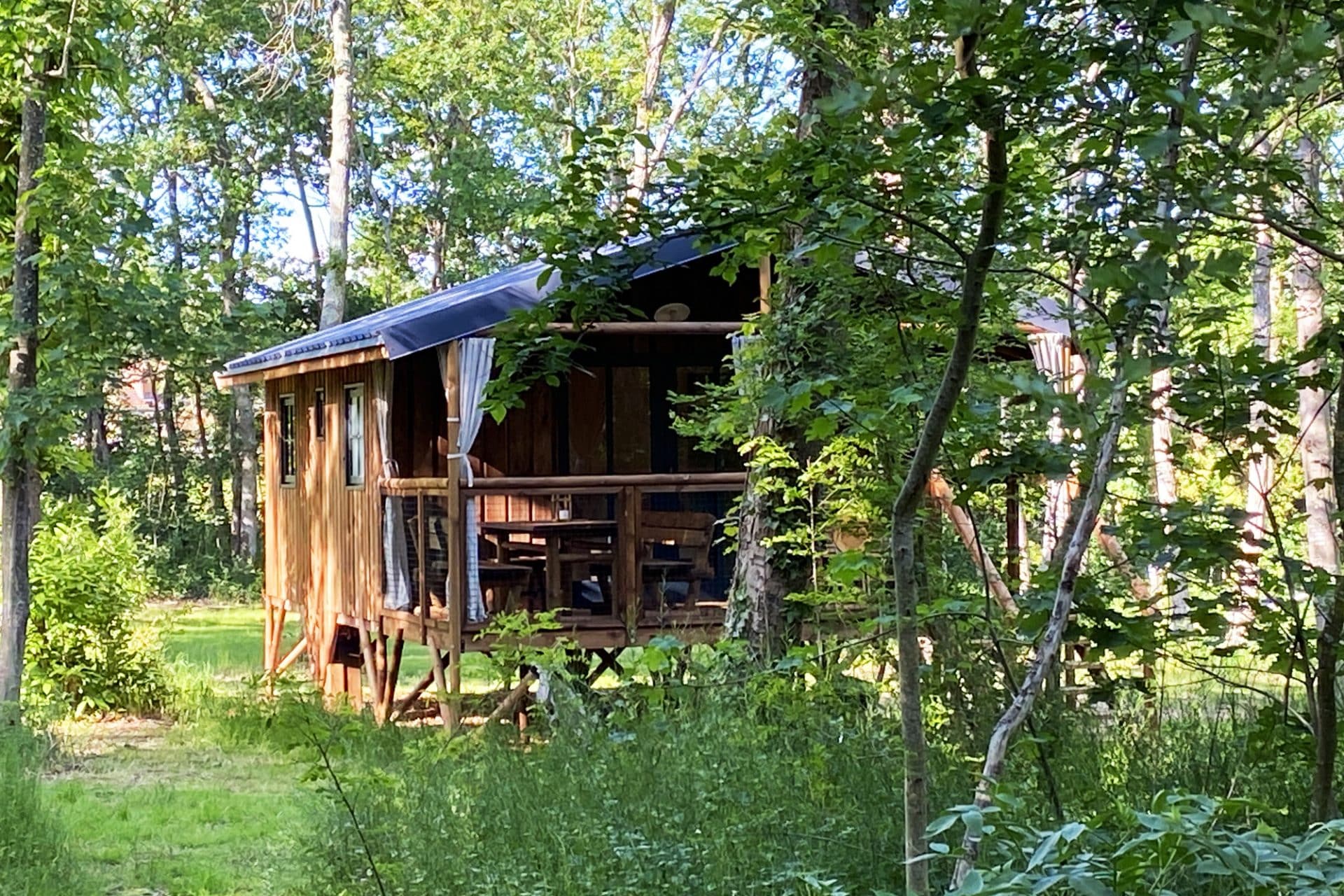 If you are looking for unusual accommodation near Paris that combines comfort, greenery, relaxation and conviviality, then the wooden cabins of the Chanteloup campsite are for you. For two or as a family, you will enjoy a timeless stay, nestled in the heart of a sumptuous forest, in unusual accommodation that offers everything you expect from a 5-star camping holiday.
The wooden cabins of the Chanteloup campsite, an unusual accommodation near Paris
Reflecting the spirit of a 5-star campsite, the Chanteloup campsite has conceived and imagined an unusual form of accommodation near Paris, with wooden cabins of rare charm. Located near Le Mans, in Sillé-le-Philippe in the Sarthe (72), the Chanteloup campsite awaits you to experience unforgettable moments.
This part of the campsite is a real haven of peace, perfectly integrated into a protected green setting, and is ideal for nature lovers. It is also ideal for those who like to take time to live, to rest and to recharge their batteries. Ideal for people who expect camping accommodation to offer all the comforts and facilities necessary for a memorable holiday and stay.
In this area of the estate, where Mother Nature's beauty is redoubled, our generously sized wooden cabins are waiting for you. They will give you the opportunity to experience moments of relaxation but also of conviviality, joy and shared happiness. Camping de Chanteloup combines the peace and comfort of a luxury campsite with the warm atmosphere of an open-air holiday.
All the recently built wooden cabins at Château de Chanteloup are designed to be eco-responsible and respectful of the natural environment into which they are elegantly and discreetly integrated. We have made it a point of honour to make their high quality of manufacture an asset that our clients appreciate in an unusual accommodation close to Paris, offering the perfect balance between a change of scenery, disconnection and comfort.



Wooden cabins with high quality and complete equipment
Here at Domaine de Chanteloup, we never forget that a campsite should offer all the comforts and facilities that are essential for a successful holiday. That's why our wooden cabins have a complete range of high quality equipment. You will certainly appreciate their generous surface area of 27m², which can accommodate 5 to 7 people for convivial and shared moments, as all our cabins have two bedrooms, a living room of comfortable dimensions, a fully equipped kitchen, toilets and a separate bathroom and, of course, a beautiful outdoor and covered terrace of 13m².
In the first room, the master bedroom, you will enjoy a high quality bedding of 160cm x 200cm, which guarantees you a restful night. Practicality is also a must as you will benefit from two beautiful storage cupboards as well as sliding drawers located on the lower part of the bed.
The second room is perfect if you are planning to stay with a group of family members, children and grandchildren. Equipped with three 80cmx200cm single beds (including one hanging bed for the adventurous), this room is also equipped with a storage cupboard and sliding drawers located on the lower part of each bed.
With its coffee table and sofa bed (140x190cm), the living room offers, together with the fully equipped kitchen, all the necessary equipment to share all your meals together, from breakfast to dinner. 4 chairs and a folding table are also provided.
The beautiful covered wooden terrace is a real plus of our wooden cabins. You will spend warm moments with your family, alone or with the other guests of the Domaine. Whether it's for an early morning coffee or tea, to savour the passing of time in the afternoon, to enjoy the last rays of the sun at the end of the day or to make a toast at aperitif time, there are plenty of opportunities to relax on this small suspended pontoon.

The facilities and amenities of our log cabins at a glance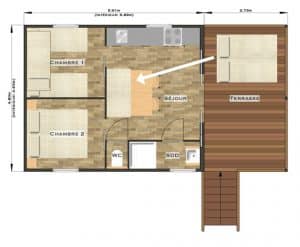 Room 1:
• 1 large double bed 160cm x 200cm
• 2 beautiful storage cabinets
• 2 drawers at the base of the bed
Room 2:
• 3 single beds of 80cm x 200cm (including 1 hanging bed)
• 1 storage cabinet
• 2 drawers at the base of the beds
Beautiful, comfortable, furnished living room:
• a coffee table
• a sofa which converts into a bed of 140cm x 190cm
• 1 folding table
• 4 chairs
Fully equipped kitchen:
• Cooking plate
• Storage
• Crockery, cutlery, dishes
• Kettle, coffee maker, toaster
• Refrigerator, combined microwave oven
Terrace of 13m²: covered and equipped with a protective net for the little ones, with table and wooden bench
Between the quality of the materials with a natural feel and a touch of chic, the beautiful dimensions of the various interior rooms, the terrace and the full range of equipment, we are sure that you have found the unusual accommodation near Paris that you were looking for in our wooden cabins. For your next holiday, book now and get ready to experience moments of relaxation, sharing and happiness for both you and your family.