The glampings of the Chanteloup domain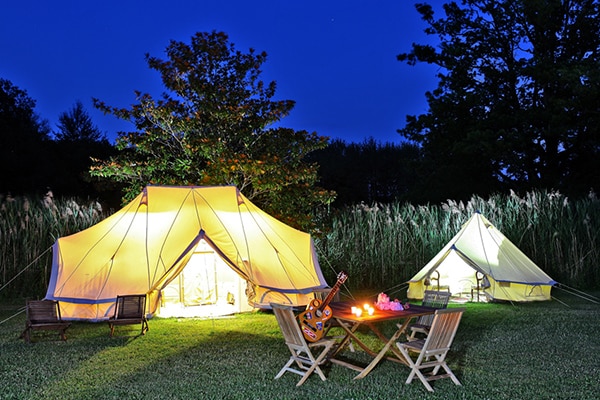 Created to satisfy the most demanding among you, these spacious and elegant tents are the perfect nexus between the excitement of camping and the luxury of a country inn. Stretch out in your royal bed as the first rays of sunshine come dancing in, with the wind gently brushing the canvas roof, you set out with your feet going from soft carpet to cool fresh grass… who could ask for more ? Furnished with authentic pieces and a fully-equipped kitchen, the glamping tents have everything you need for a wonderful stay. These accommodations will rekindle your love of camping !


Glamping is the new trend in outdoor tourism. Eco-chic, this new mode of tourism combines comfort and nature, comfort and rusticity, glamour and camping. Camping under canvas is a unique experience: listening to the sound of the wind in the canvas, the sounds of the night or awakened by the song of the birds, the scents of nature. For a different kind of holiday, enjoy authentic family accommodation and discover the joys of camping without the constraints. During the season, you can use all the campsite's facilities free of charge: top-of-the-range sanitary facilities, heated swimming pool, bar, restaurant, lounge in front of the castle, billiard room and games room inside the castle.
(season: from 29 May to 12 September)
The service: a large 24 m² tent for parents and a smaller 16 m² tent for 2 children with beds, antique furniture and carpets. Outside, for your comfort, you will find 2 deckchairs, 1 table and 4 wooden chairs, 1 parasol, 1 BBQ, kitchen furniture (electric hotplate, kettle, crockery, fridge). To protect you from the sun, a 14 m² sail is at your disposal, and Wi-Fi and electricity are included. The "Linen Kit" service with sheets, duvet covers and towels and the "Housekeeping" service are optional.
Attention, a small message to the regulars of Chanteloup, apart from the 2 irreducible glampings with a view on the lake, the others have moved and are no longer in the same places. You can see their new position, these are the black dots on the map with a "tent" pictogram.