Remember your first campfire? It's a revival with your children!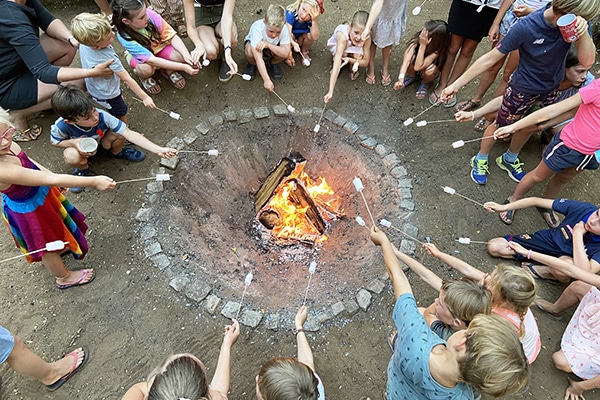 In Chanteloup, there are wonderful moments. The children's campfire is one of them. On the menu: music, marshmallows, fruit juice and good humour. Come and experience with us and your family this summer's must-see event.
The light declines on the terrace of the castle, it is finally time. After the heat of the day, the air is milder and the atmosphere is euphoric. The children gather around the Kids Club members, chirping happily as their parents look on in delight. A few more minutes, we have to wait for the last stragglers, who are making themselves scarce.
In a shared and joyful excitement, boxes of marshmallows and drinks held by multiple small hands, the swarm slowly makes its way towards the woods. In small groups, families and friends walk along the wooded path of the Chanteloup estate that leads to the campfire in a shared excitement. Smoke can be seen billowing between the branches and the murmur of flames can be heard.
The fire crackles in the heart of the forest and awaits its guests. This is a magical place, hidden behind the foliage. Makeshift benches built from tree trunks are arranged in an arc next to a makeshift refreshment stand under a sail. It's nice and warm next to the flames and all those little red cheeks are in heaven.

Under the supervision of the parents, the children rush around the fire, each one with a stick on which one or several marshmallows are pricked, the greedy ones take advantage of it, this evening everything is allowed. These little sweets turn a lovely golden colour and the runny, sticky centre settles on the hands and chins. The parents chat and it is not uncommon to hear the sweet song of the guitar join in with the laughter of the children.

At the end of the evening, funny little clowns appear behind the trees, the forest is enchanted. Don't hesitate to share this magical evening with your children at Chanteloup, which is regularly organised in high season to the delight of all. It's an unforgettable experience guaranteed and not only for children!

But Chanteloup does not stop there! We have lots of ideas and experiences to share with you that you will love.
Discover the other must-see moments of the summer.